Decades before sexual harassment cases were on the cover of every major media publication, Mike Domitrz (CSP, CPAE) was being brought in by leading educational institutions and the U.S. military to help them pursue a new standard of consent and respect. With Mike being the author of 3 books, host of an award-winning DVD, and a Hall of Fame speaker, you get one of the world's leading influencers and thought-leaders on the topic of respect.
You may have seen Mike on NBC Dateline as a featured subject matter expert or being quoted in international news publications – from Forbes to The Wall Street Journal. He is continuously being sought out for his proven track record of helping people shift their paradigm on respect.
Why does Mike have such an intense passion and drive? In 1989 while in college, he received a phone call that his sister had been raped. As he held the phone tightly to his ear, he simply could not believe what he was hearing. Mike decided to make a difference and began speaking out.
In 2003, he founded The Center for Respect which conducts trainings for tens of thousands each year. Today, small and large companies and associations are turning to Mike Domitrz to have him help them do what he has done for universities and the US Military: Create a culture of respect throughout their organization.
Mike's extensive experience and incredible talent as a speaker enables him to connect with audiences of all ages in honest, unique conversations that are always built on creating positive behavioral change for each individual and the organization as a whole. Mike knows exactly when to engage your audience with his hilarious sense of humor – while at the same time knowing the precise moment to draw serious, self-reflective emotion from each individual.
Imagine teaching 15-year-olds about "asking first" and then later that same day talking with admirals and generals about creating mutually amazing work relationships. You know Mike will be able to connect with each person in your audience.
HALL OF FAME SPEAKER (CPAE) and a Certified Speaking Professional (CSP):
In 2022, Mike Domitrz was 1 of only 5 speakers to be inducted into the National Speakers Association Hall of Fame with the CPAE Award (Council of Peers for Excellence Award). Mike is the first expert focused on respect in the workplace to ever be inducted into the Hall of Fame. You can scroll down this page to watch the video of Mike being inducted and to hear his acceptance speech.
What is the CPAE?  The National Speakers Association established the Council of Peers Award for Excellence (CPAE)® Speaker Hall of Fame to honor professional speakers who have reached the top echelon of platform excellence.
Admission into the CPAE Speaker Hall of Fame is a lifetime award for speaking excellence and professionalism. Inductees are evaluated by their peers through a rigorous and demanding process. Each candidate must excel in the following five categories:
Message
Presentation & Delivery
Experience
Professionalism
Collateral Material
What is the CSP Designation? The Certified Speaking Professional (CSP) from the National Speakers Association is an earned designation in the speaking industry. To earn the CSP, speakers must be able to prove quality of speaking with a track record of excellence over a long period of time. Client evaluations over the course of 5 years are involved in the process. Less than 5% of professional speakers have earned the designation. Mike Domitrz received the CSP in 2008.
Watch Mike Domitrz being inducted into the National Speakers Association's Hall of Fame.
Mike Domitrz is a Certified Virtual Presenter.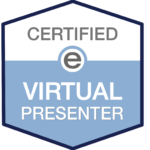 To receive this certification, a professional must complete a certification process which includes a live test using virtual presentation skills with an evaluator. This process insures you get a speaker who can handle any potential challenges and/or technical difficulties in virtual presentations.
With Mike, you know you are getting a professional who will happily help you with any of your technology needs – whether for a webinar, an online meeting, or a live stream.
Help create a transformation throughout your organization by building a culture of respect with Mike Domitrz through The RESPECT Revolution keynote.
Learn More

Through an open, honest, fun, and crucial discussion, Mike Domitrz taught us how to think more carefully about our words and actions while creating an inclusive environment for all. Mike Domitrz was the perfect expert to provide us the 'Why' and 'How To' for Creating a Culture of Respect.

Miriam Fogel

Manager, Visiting Faculty, Alumni & Fellow Services
New World Symphony
Internationally renowned speaker and critically-acclaimed author Mike Domitrz provides specific how-to skills so each person at all levels of an organization can implement immediately for building a culture of respect. His preparation and mastery of the material has earned him the credibility and trust within Special Operations across the Department of Defense.

Mike Kontio

Former Joint Special Operations Command
U.S. Army Master Sergeant (Ret OR-8)
Thinking about the words we chose and how we communicate is key in creating a supportive, cohesive, and respectful organization. Culture of Respect opened everyone's eyes to the ways we might be unintentionally offensive. The program was engaging, thought provoking, and well paced. Everyone was shocked how fast the time had passed! We look forward to having Mike back next year.

Humberto Ortega

Assistant VP, Accounting & Human Resources
New World Symphony
Mike is unique in his ability able to explore sensitive topics with any
group to include senior leadership, helping all build a better
understanding of what is needed to create a positive, diverse and
balanced work force.

Chuck Marks

Former U.S. Fleet Forces Command
Captain in US Navy (Ret)
When it comes to helping us build a culture of respect, Mike Domitrz is our go-to expert. The New World Symphony recently welcomed Mike Domitrz back for a third time. Mike's seminars have become an integral part of our program each year. His friendly, conversational, and interactive style is very effective and his messaging resonates and stays with people for a long time afterwards.

David J. Phillips

Executive VP & CFO
New World Symphony
I am so profoundly thankful that I was afforded the opportunity
to learn from and work with you & your team. You are the
change we need in this world, in this society, in this culture. The
work you do is unparalleled, honestly.

Shannon

U.S. Army National Guard
Want to learn more?
Start the conversation.
Mike Domitrz, CSP
The Center for Respect, Inc.

P.O. Box 269
Mukwonago, WI 53149-0269
800-329-9390
Hello@MikeDomitrz.com